Rocks of ages a priceless art legacy after 50-year walkabout
The Weekend Australian        January 22, 2021 by Victoria Laurie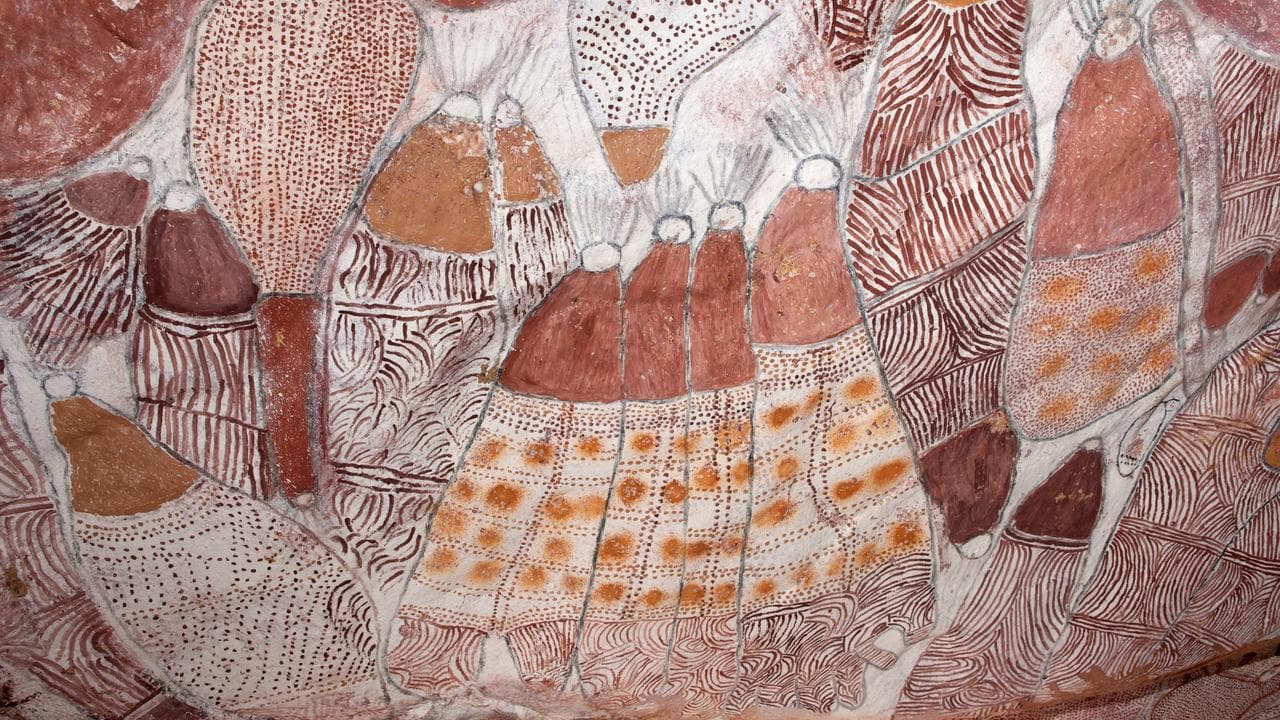 An elaborate painting in a rock shelter in the northern Kimberley.
Australia's most significant photographic collection of rock art has graduated from one man's passion into a priceless gift to researchers of the nation's prehistory.
Former geologist and veteran bushwalker Mike Donaldson has handed over thousands of slides and digital recordings from a lifetime collecting about 100,000 images on hikes through rugged northwest Australia and visits to every state and territory.
He has captured the extraordinary artistic outpouring that occurred over tens of thousands of years, from Sydney's sandstone plateaus to Cape York, from vast natural galleries in the Kimberley to Central Desert petroglyphs and Tasmanian cave paintings.
The collection offers the most comprehensive insight into historic Indigenous rock art in a single collection. Dozens of wooden boxes containing slides have been kept in an airconditioned room in his Perth home, while more recent images are digital.
"I have 100,000 images in my catalogue, and 30,000 of those are slides," he says. "But I'm not trying to declutter. I just don't want my work to be lost after 50 years taking photographs."
Kangaroos or wallabies on sandstone in the Sydney Basin.
From this month, the images will be transferred by the WA Digitisation Centre at the University of Western Australia, a new facility set up to digitise for posterity important historical material.
UWA's Centre for Rock Art Research and Management will manage the collection for research and publications, subject to Aboriginal approvals.
Ben Smith, UWA professor of world rock art, says Mr Donaldson "spent a huge part of his life taking astonishingly high-quality photographs of rock art all over Australia. Because he's a walker, Mike gets to incredibly remote places that only a handful of researchers have got to — in some cases, I think he's the only person who has been to those sites, other than the traditional owners themselves."
Professor Smith says the images will help in sequencing rock art styles and working out where and how they change.
Mr Donaldson has already worked closely with UWA's Kimberley Visions project (sponsored by the Rock Art Australia), which is using pioneering dating techniques led by the University of Melbourne to date the art (Rock Art Dating project also sponsored by Rock Art Australia).
Pioneering rock art researcher Grahame Walsh, who died in 2007, was always fiercely protective of his images and maps of thousands of sites, predominantly in the Kimberley. But Mr Donaldson takes the view that his collection should be available to those who would benefit.*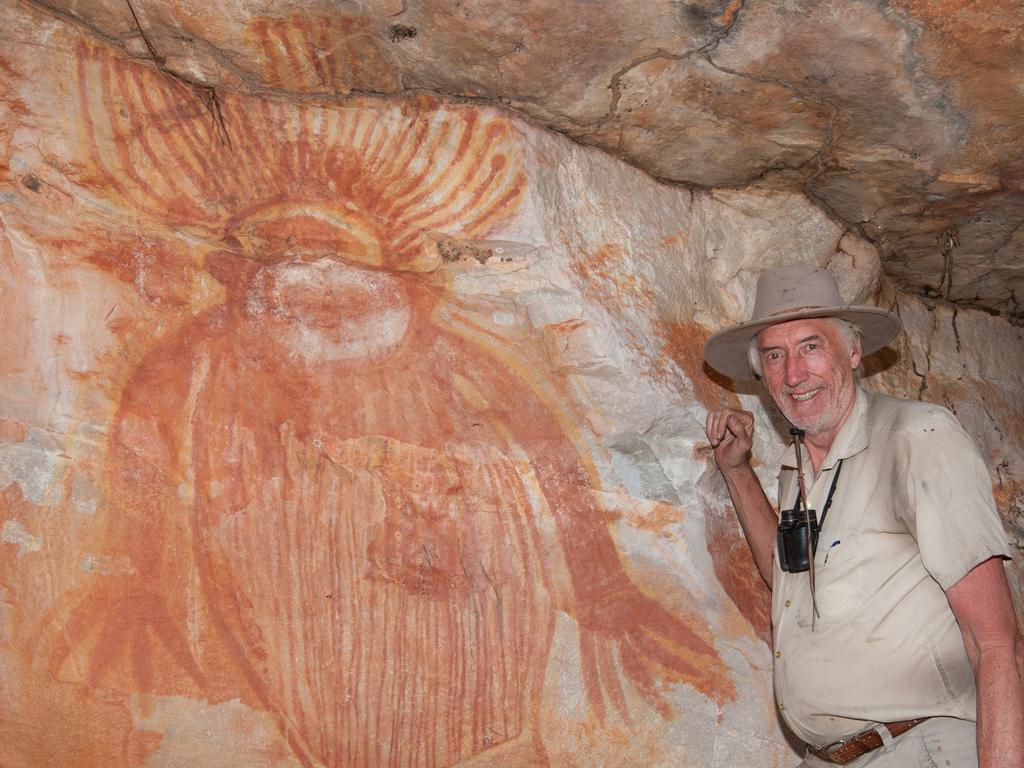 Mike Donaldson at a Roe River site in the Kimberley.
He has self-published four collectors' item volumes on Kimberley and Burrup rock art. "I've given copies of all my images and the ­coordinates to Aboriginal communities, who have done trips out to look at sites they had no idea about. That's the whole purpose of my books, to educate people about this rich heritage of art."
But Mr Donaldson fears an era of access is ending in the Kimberley, where native title covers most of the region. He says he understands that Indigenous corporations want to control visitor inflow and restrict photography in certain sites, but he hopes ways will be found to allow continued access for documenting work.
*100's of site recordings and images from the Walsh collection were made available to the Rock Art Dating  and Kimberley Visions research teams working with Balanggarra Aboriginal Corporation.
ABC RADIO INTERVIEW
Precious art and remarkable photos
By Vanessa Mills on Kimberley Breakfast
The Kimberley has one of the most incredible collections of art – all painted onto sandstone rock faces.
The paintings can range from weathered and faint to bright colours or vivid outlines, and can showcase spiritual beliefs, animals, or social customs.
One man who has seen many thousands of the art works over the decades is Mike Donaldson.
He and friends go on extended multi-day hikes through some of the most remote and rugged terrain.
The former geologist has donated much of his vast collection of photographs to University of WA's Centre for Rock Art.