Welcome to Rock Art Australia's

Spring

 E-News

In this issue, we take you on a journey that spans the expanses of western Arnhem Land to the Drysdale River National Park in the Kimberley and the Cockburn Ranges.
Last month Rock Art Australia was invited by traditional owners to Kakadu and Gunbalanya, western Arnhem Land.  RAA Director, Cissy Gore-Birch and I had the privilege of meeting Mandy Muir, traditional owner and senior custodian Murumburr Clan Estate, Kakadu, and her family and neighbouring clans. I am buoyed by the ideas that were generated and our discussions regarding access, education and keeping culture alive through research.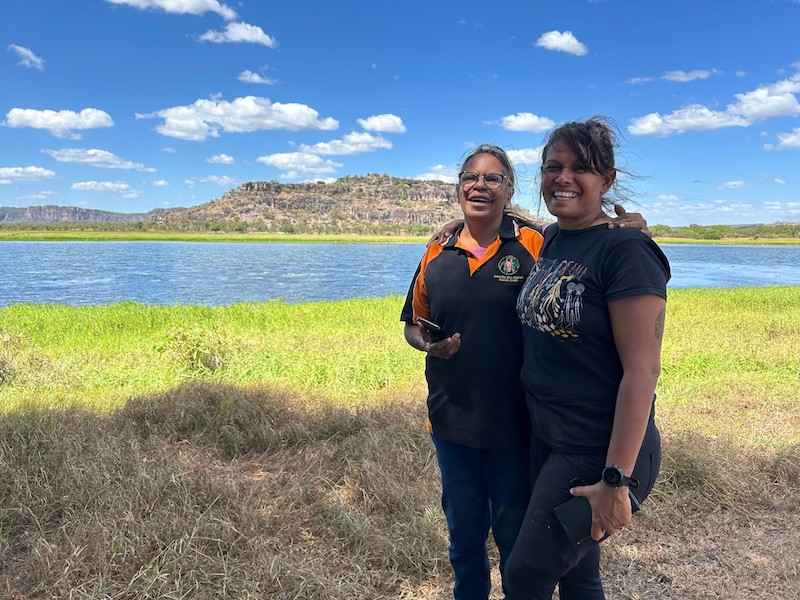 RAA Director Cissy Gore-Birch with Traditional Owner Mandy Muir
In Darwin I met Eve Chaloupka who is leading the Museum and Art Gallery of the Northern Territory (MAGNT) digitisation of the George Chaloupka Archive that many RAA supporters are helping to fund. The importance of this project to the traditional owners who partnered with Chaloupka is significant.
The Rock Art Dating team had their final field trip in the Drysdale River National Park working alongside Kwini traditional owners and Balanggarra Aboriginal Corporation (BAC). And the Cockburn Ranges research team spent two weeks working with BAC and traditional owners to continue a recording and colour analysis program begun in 2022.
Don't miss RAA's Annual Public Lecture Series:
26 October – Perth – delivered by Prof Sue O'Connor – The University of Western Australia Book Now
14 November – Melbourne – delivered by Prof Andy Gleadow – The University of Melbourne Book Now
RAA has made two exciting new executive appointments which will be announced shortly, and I remain until 28 September to ensure a smooth transition. We say farewell to Liz McDevitt, Communications Manager, and I personally thank her for her achievements at RAA and friendship.
I extend my heartfelt appreciation to our supporters whose unwavering generosity drives our mission and to everyone who has written to me. I am leaving Rock Art Australia in good hands with directors, staff and supporters who are committed to driving a research program in partnership with traditional owners, knowing the rock art must treasured and protected, and the related stories must be told.  Scroll down to enjoy our spring edition of E-News.
With gratitude,

We're enthusiastic to showcase a new film, brilliantly captured over the last 10 years by  cameraman and collaborator Mark Jones, of the decade-long Rock Art Dating journey. Prof Andy Gleadow, the lead scientist behind the Dating project, guides you through the science behind deciphering the age of rock art.  We recommend setting aside 11 minutes of your time. Watch it here
KAKADU AND ARNHEM LAND VISIT
It was very special to be invited by traditional owner Mandy Muir and her clan to spend time on her country. The cruise on Yellow Waters with Mandy sharing stories passed down to her of how the old people lived and hunted was a highlight. She even served up fruit bat one night! We met with friends, rangers, musicians, artists, curators and managers. We visited Kylie Linder, Cultural Engagement, Kakadu Park, and the Warradjan Aboriginal Cultural Centre. We visited Burrunggui (upper area of Nourlangie Rock) and the lower area, Anbanbang, and we had a marvellous visit to Gunbalanya and Injalak arts and caught up with traditional owners of that land.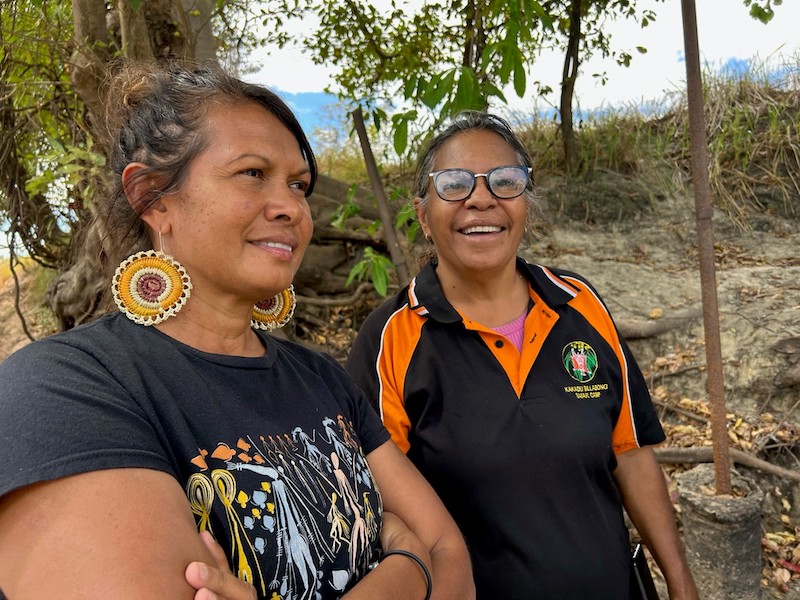 Cissy and Mandy wait for the tide to subside at East Alligator River. We spotted 13 crocodiles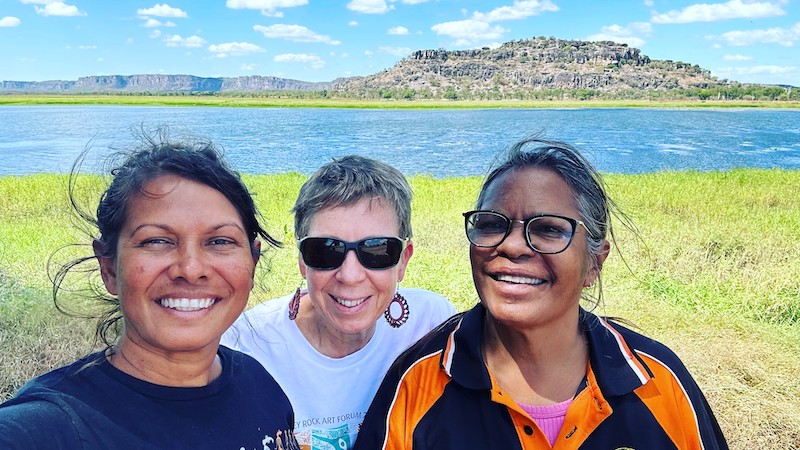 Cissy Gore-Birch, Cas Bennetto and Mandy Muir, Gunbalanya, western Arnhem Land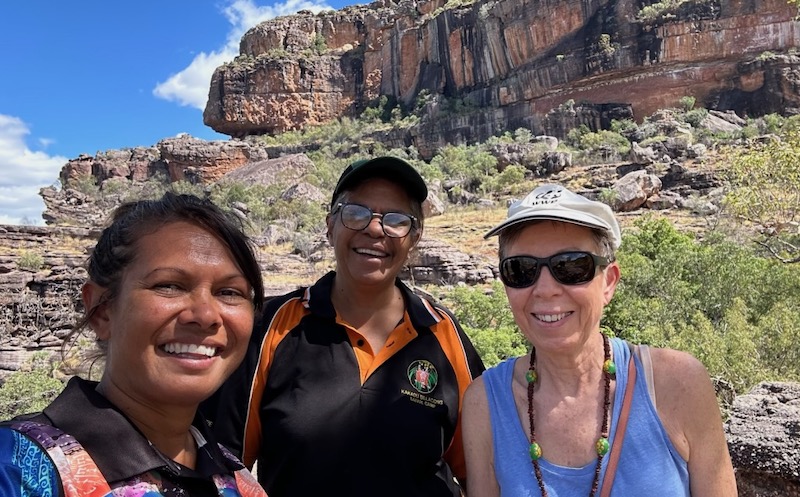 Cissy, Mandy and Cas at Burrunggui (upper area of Nourlangie Rock)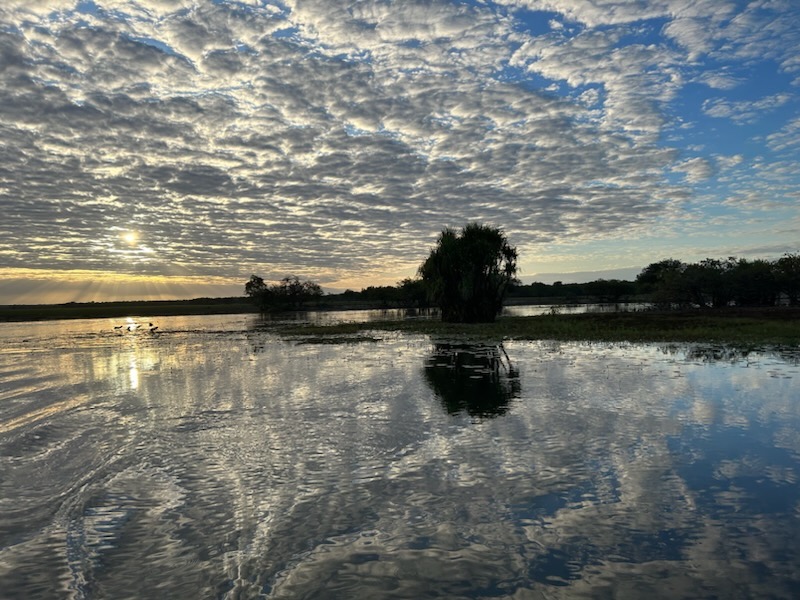 Yellow Waters at sunrise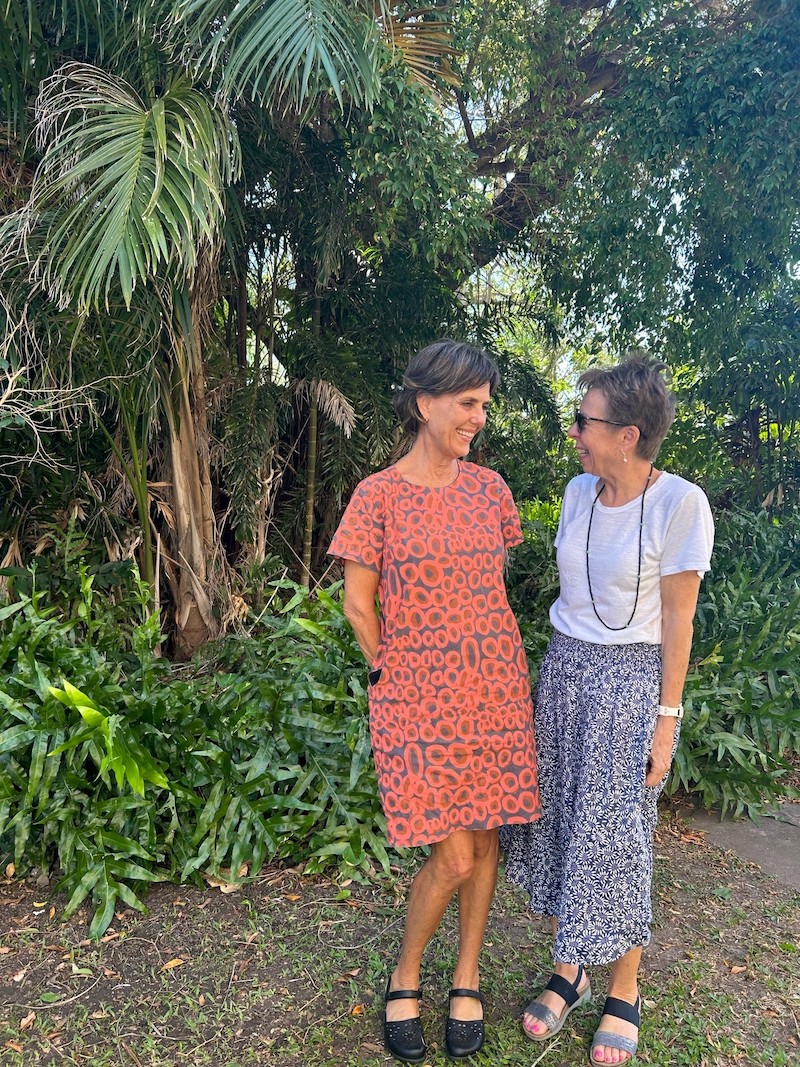 Eve Chaloupka (MAGNT) and CEO Cas Bennetto in the grounds of the Museum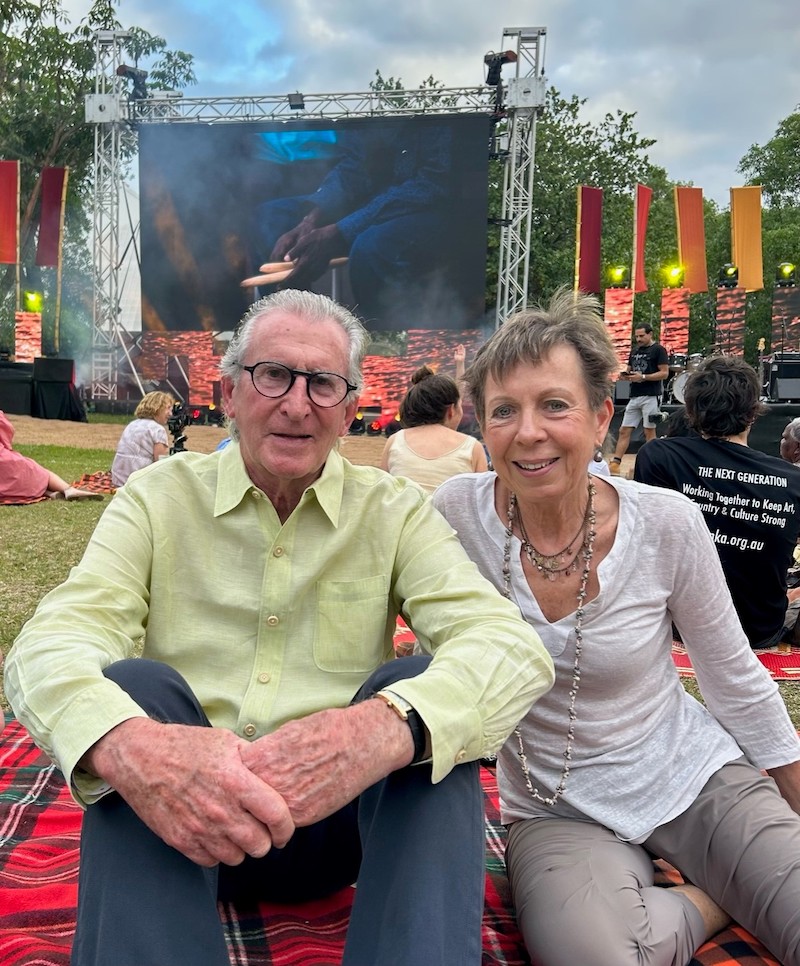 RAA director Laurie Brereton and Cas in Darwin at the opening night of the Telstra National Aboriginal and Torres Strait Islander Art Awards at the Museum, on Larrakia Country
RESEARCH UPDATES
A highlight for the Dating team was sharing research progress and film clips with the community in Kalumburu. There's a lot to share after 10 years! Cameraman Mark Jones joined the team to film the new Booornoornoor project. The film features Augie Unghangho, Elder and Senior Traditional Owner, who has worked alongside the Dating team for ten years, together with Ian Waina and other Kwini community members. Boornoornoor is Augie's Aboriginal name. Augie especially wanted to record the stories of Ungud (the creation serpents) and the positioning of the art sties to astronomical constellations and directions of songlines. One of the most significant parts of the trip was sharing clips of the film that Mark cut on his computer at night in the field camp. We look forward to sharing the film with everyone when it's 'in the can'.
We are delighted to announce the support of the Calvert-Jones Foundation on this project.
Dr Damien Finch with traditional owners Dorothy Djanghara and Bernadette Waina on the Rock Art Dating research field camp
Prof Bruno David will give a presentation on the New Guinea 2 Cave 3D modelling project at an on-country symposium run by GurnaiKurnai Land and Waters Aboriginal Corporations (GKLaWAC) and Victorian RAP groups this week. We look forward to sharing further updates about the project.
In June, the Cockburn rock art research team – Sam Harper and Profs Joakim Goldhahn and Rachel Popelka-Filcoff, spent two weeks working with Balanggarra Aboriginal Corporation (BAC) and traditional owners Clinton Johnstone, Greg Johnstone, and Steven Weaver, to continue a recording and colour analysis program begun in 2022 with RAA Seed Funding. The team recorded 77 new places, bringing the total number of sites to 136. In 2023 the project is funded by WA's Department of Biodiversity, Conservation and Attractions with in-kind support from BAC and RAA.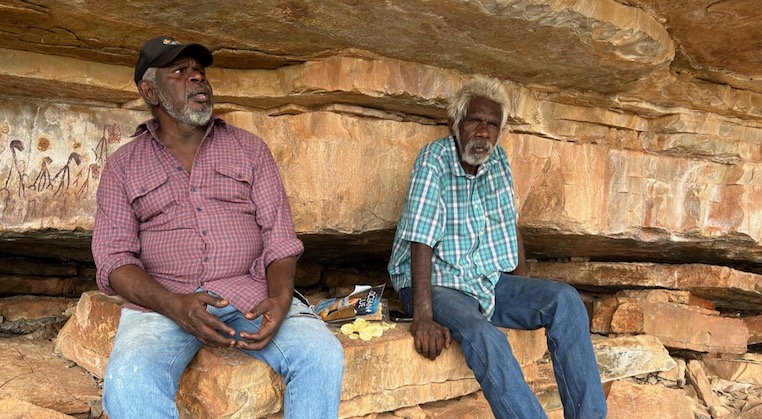 Traditional owners Greg and Clinton Johnstone at one of the many rock art sites in the Cockburn Ranges Photo: Joakim Goldhahn courtesy Clinton Johnstone
INTERNATIONAL DAY OF THE WORLD'S INDIGENOUS PEOPLES SYMPOSIUM AT THE UNIVERSITY OF MELBOURNE
Traditional owner Ian Waina, alongside Prof Rachel Popelka-Filcoff and Dr Helen Green, took to the stage at this year's International Day of the World's Indigenous Peoples Symposium, hosted by The University of Melbourne. Their insightful session "Two Ways to See Kimberley Rock Art" demonstrated the power of insights from traditional owners.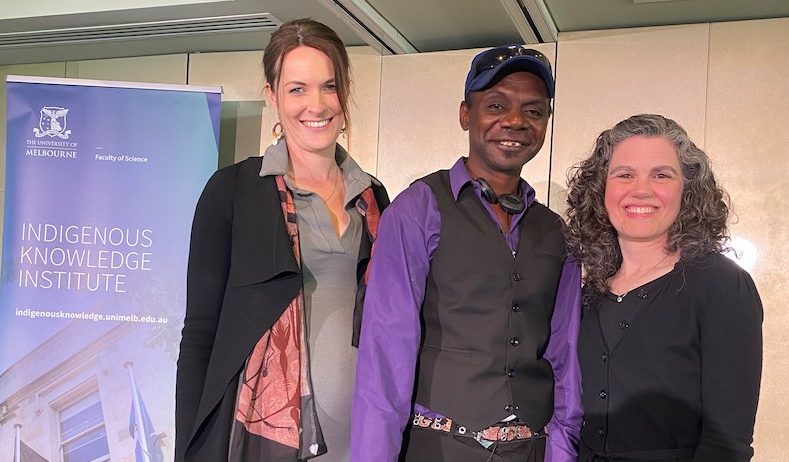 RAA IN CANBERRA
RAA director Susan Bradley OAM journeyed to Canberra for 'Showcase WA' to spotlight the Kimberley. Parliament House played host to over 1500 Ministers, Shadow Ministers, and members of the Diplomatic Corps. Prime Minister Anthony Albanese told Susan that he aspires to 'witness the allure of the Kimberley's rock art' on his next visit!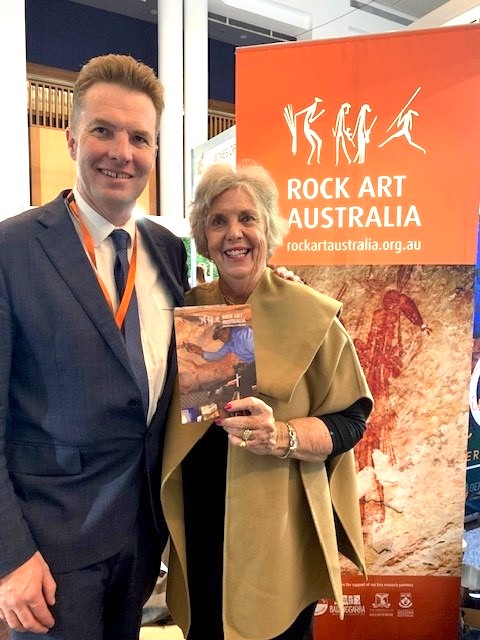 Susan Bradley and John Williams, INPEX, at Parliament House
RAA TO SPONSOR INTERNATIONAL CONFERENCE ON ARCHAEOLOGICAL SCIENCE
Rock Art Australia is the Platinum Sponsor for the prestigious 2024 International Symposium on Archaeometry (ISA), the leading international conference of archaeometry and archaeological science. It is the first time it will be held in Australia, with over 200 international researchers expected to attend. It holds the mantle for being the foremost global conference dedicated to archaeometry and archaeological science. The RAA Minderoo Chair in Archaeological Science, Prof Rachel Popelka-Filcoff is leading this pioneering symposium, to be held at The University of Melbourne in May 2024.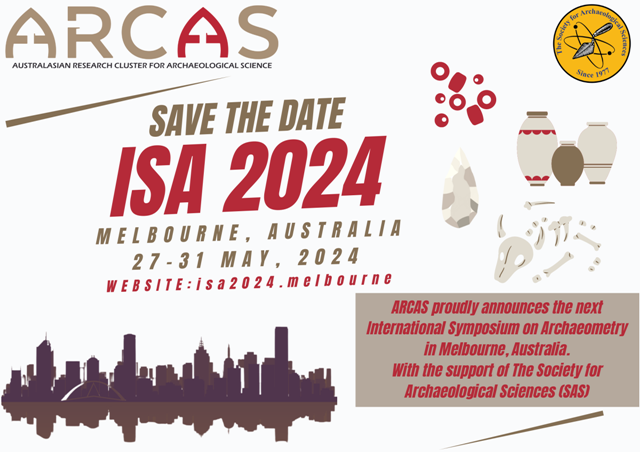 RAA is also sponsoring the 2023 Australian Archaeological Association Annual Conference to be held on the Gold Coast in December. Dr Helen Green and Prof Bruno David will present papers on their RAA-funded research projects, and The University of Melbourne's Professor Lesley Head and Professor Michael-Shawn Fletcher are keynote speakers.
RAA ADDRESS UPDATE
Rock Art Australia has a new office in the heart of Melbourne
Level 6, 41 Exhibition Street, Melbourne, VIC 3000
Our contact details and telephone numbers remain unchanged.
We gratefully acknowledge the generosity of our leading donors.