Welcome to Rock Art Australia's

Winter

2023 E-News

In this edition of E-News we share news and images of the inaugural Indigenous-led Rock Art Forum in the Kimberley last month hosted by Balanggarra Aboriginal Corporation and supported by Rock Art Australia.  Attended by representatives from Balanggarra, Wilinggin, Wunambal Gaambera, Miriuwung and Gajerrong (MG Corporation), Nyangumarta Warrarn, and Anguladj Aboriginal Corporation (Kakadu).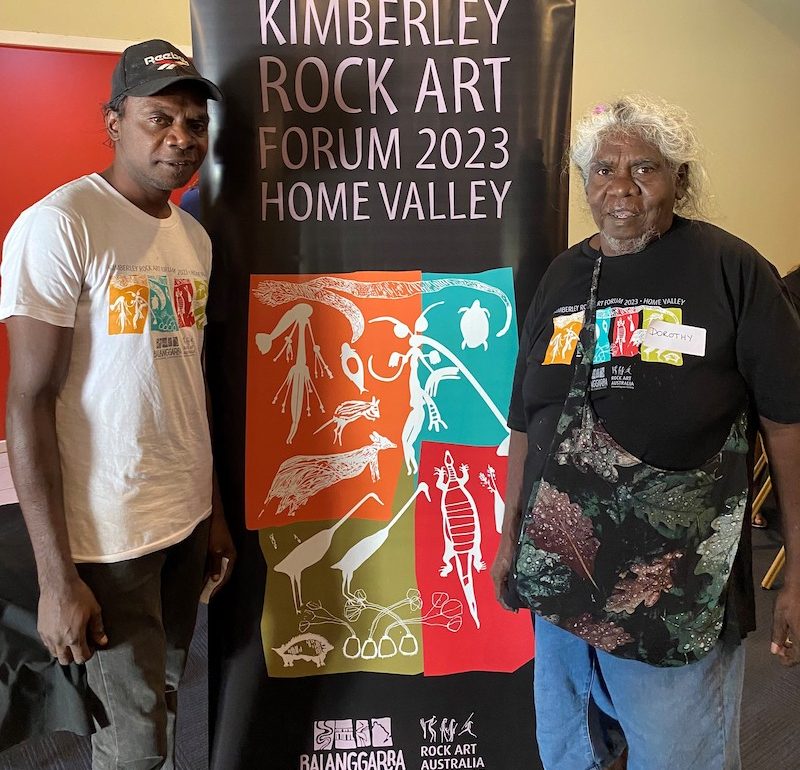 Kwini man Ian Waina and Wunambal woman Dorothy Djanghara at the Kimberley Rock Art Forum.
RAA's annual public lecture was held in Sydney in April at the Art Gallery NSW and delivered by Distinguished Professor Paul Taçon. We are grateful to the AGNSW Society for the on-going partnership with Rock Art Australia and our thanks to Robert Heather, Executive Director of the Art Gallery Society and the AGNSW for its ongoing support.
I have spent the last few days in Perth catching up with friends and supporters.  I am extending my term at RAA for a couple of months. I would like to express a big thank you to everyone who has donated and reached out to me over the past few months. It's an exciting time at Rock Art Australia. We are shaping ideas and new relationships and exploring opportunities to collaborate with Aboriginal communities, researchers and cultural institutions who have expressed they are keen to explore their cultural heritage and rock art sites.
Thanks to all our wonderful supporters who have already given generously. If you have not yet made a donation there is still time to make an impact. Donate before 30 June. Donated now 
Scroll down to enjoy our winter edition of E-News.
Best wishes

ROCK ART FORUM IN THE KIMBERLEY
A fascinating few days at the first Indigenous-led Rock Art Forum in the Kimberley! Two ways to see was organised and presented by Balanggarra Aboriginal Corporation and supported by Rock Art Australia. We celebrated RAA's 10-year research journey and partnership with Balanggarra. Many exciting ideas emerged for collaboration on rock-art related research and cultural heritage, including supporting women rangers attend art sites, fire management on country and using immersive technology for Indigenous education and storytelling. We will talk through these ideas with the Aboriginal groups, and we look forward to keeping you informed. Thank you to Balanggarra Aboriginal Corporation and to all participants for sharing and collaborating!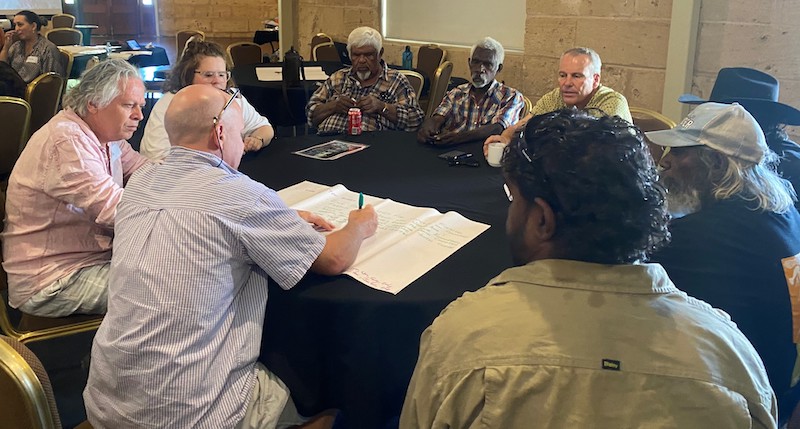 Round table discussions at the Kimberley Rock Art Forum.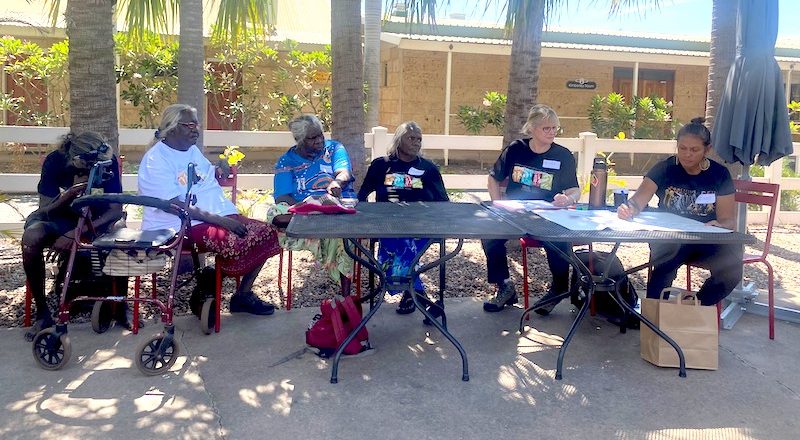 A women's circle discussion at the Rock Art Forum.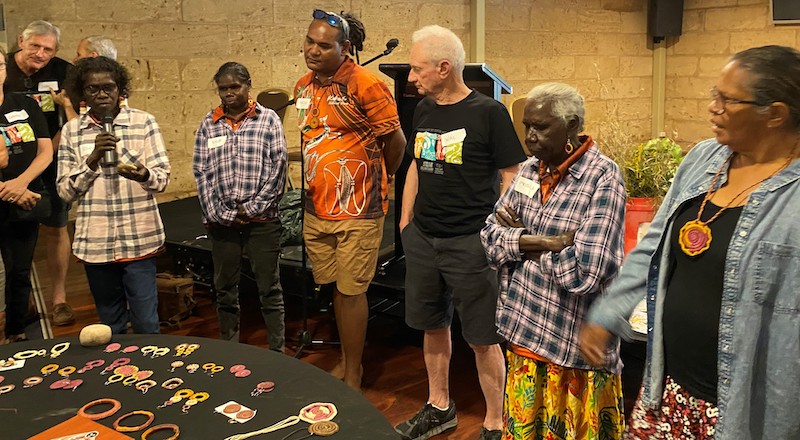 Beautiful Kakadu jewellery at the Rock Art Forum showcased by Anguladj Aboriginal Corporation's Mandy Muir, Elonda Nagow, Kylie Nagow, Priscilla Badari, Nilus Vigona.
DESERT TO THE SEA FIELDWORK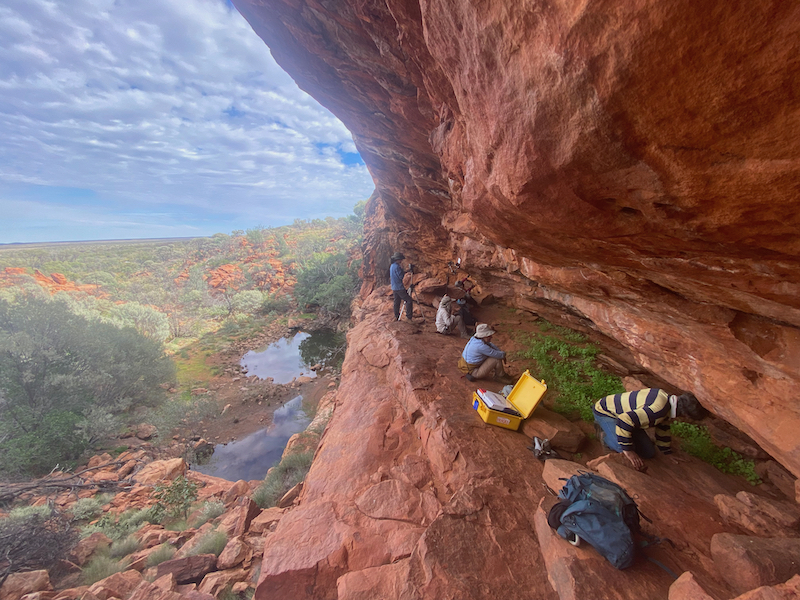 Researchers recording and analysing rock art on the Birriliburu Indigenous Protected Area. Photo by Marc Wohling.
Prof Rachel Popelka-Filcoff, the Rock Art Australia Minderoo Chair in Archaeological Science at The University of Melbourne, and the
Desert to the Sea team
held a Culture Camp with traditional owners and an initial training exercise with rangers on the Birriliburu Indigenous Protected Area in the Little Sandy Desert. Led by Prof Jo McDonald, Director of the Centre for Rock Art Research and Management at The University of Western Australia, the camp focused on fire, ranger training, grindstones, and recording and analysis of rock art. Rachel established proof of concept analyses and contributed to the non-destructive analysis of several rock art sites, as well as examining pigments and plant binders in the region. This project embodies the recent MOU between The University of Melbourne and The University of Western Australia, strengthening collaborative projects in Australian rock art research in Western Australia.
VESKI INSPIRING WOMEN GRANT
This year's 'veski inspiring women – briefing the funding gap grant' winners included Dr Louise Shewan pictured back row, right.
Congratulations to
Dr Louise Shewan
from The University of Melbourne who has been awarded a research grant by the State Government of Victoria's
veski
initiative to advance to advance archaeological teeth analysis methods. Louise's position as Research Fellow in Archaeological Science at Uni Melb is funded by Rock Art Australia. A special event for the 'veski inspiring women grants – bridging the funding gap' was held in May. Louise was one of 4 recipients (the only non-medical) to receive the grant. Funding is for her project 'Human life histories: isotopic investigation of archaeological teeth'.
Read more here.
Rock Art Australia is moving office in August, and we will update you of our new address in due course.
We gratefully acknowledge the generosity of our leading donors.