Welcome to Rock Art Australia's September 2022 E-News

Researchers are back in the field in force!
The Rock Art Dating team continued their research in the Drysdale River National Park with partners Balanggarra Aboriginal Corporation in July. Photo credit: Damien Finch and Balanggarra Aboriginal Corporation.
Researchers are back in the field in force! The Rock Art Dating team continued their research in the Drysdale River National Park with partners Balanggarra Aboriginal Corporation in July. Two new projects got underway involving RAA Minderoo Chair Prof Rachel Popelka-Filcoff and Dr Louise Shewan, Archaeological Fellow at Melbourne University. Meetings with key Aboriginal Corporation partners, rangers and traditional owners have taken place in May, August and September. Prof Joakim Goldhahn (RAA Kimberley Chair) and Sam Harper (University of WA) were in the field in May and are currently visiting Balanggarra Aboriginal Corporation (BAC) to discuss the array of rock art, engravings and drawings recorded for BAC's feedback and involvement.
Scroll down to read more about the research and enjoy our spring edition of RAA News. Thanks to Balanggarra Aboriginal Corporation, the Traditional Owners and the Indigenous community partners who make it possible and to to all who support the research.
Best wishes,

RESEARCH - DRYSDALE 2022 FIELDWORK
Radiocarbon Dating Team
Last month the wasp nest radiocarbon dating team re-visited the 17,300 year-old kangaroo site with senior Kwini Traditional Owner Augie Unghango. One of Augie's younger sons, Augustine Junior, joined the team for the first time, getting some hands-on experience collecting and recording mud wasp nests in contact with rock art.
A highlight of the trip was listening to Augie (Snr) talk about his time as a 14-year-old when he was taken by his father to visit this particular Wanjina site high above the Drysdale River. Augie (Snr) introduced Augustine (Jnr) to the site and shared with him the associated mythology, the song and dance for the snakes. He sang the song by the river, where the song belongs. Making the connection between the rock art and the living culture was a memorable experience for the researchers.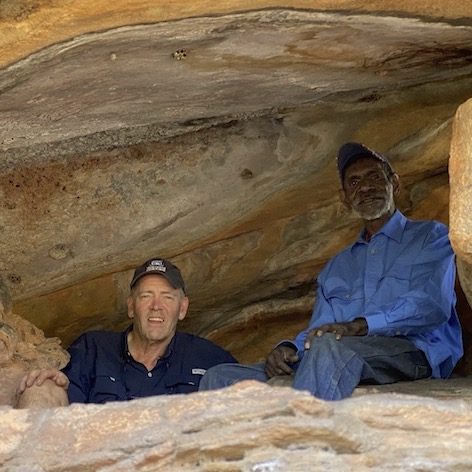 Dr Damien Finch with TO Augustine Unghango at the 17,300 year-old kangaroo site. Photo credit: Pauline Heaney and Balanggarra Aboriginal Corporation.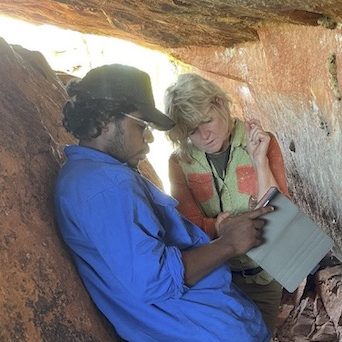 TO Augustine (Jnr) Unghango and Pauline Heaney recording mud wasp samples collected from over and under art. Photo credit: Damien Finch and Balanggarra Aboriginal Corporation.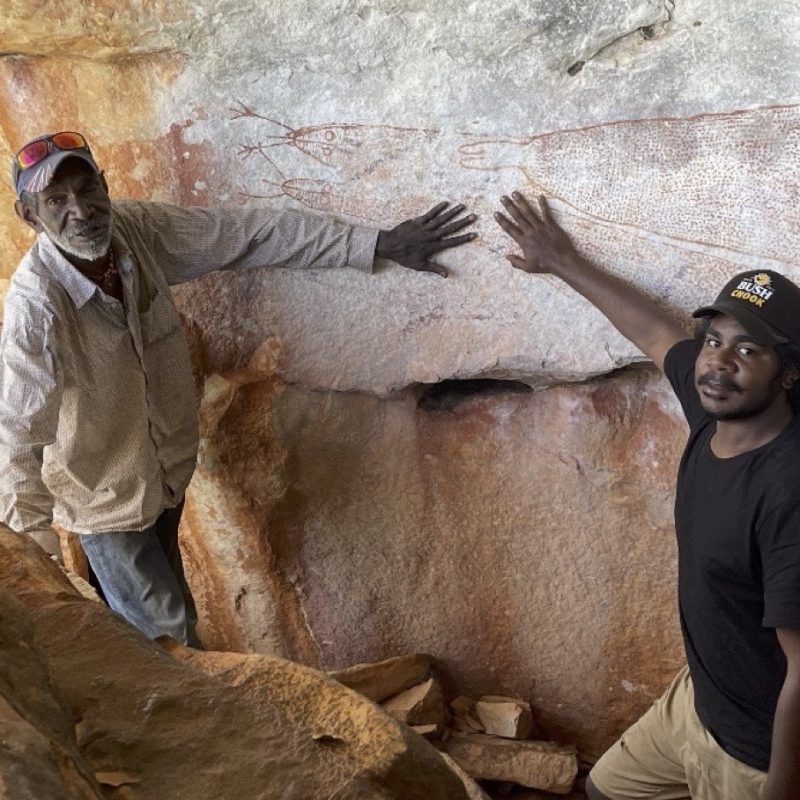 TOs Augie (Snr) with son Augustine (Jnr) at the snake pair painting site in Drysdale National Park.
Photo credit: Damien Finch and Balanggarra Aboriginal Corporation.
Mineral Accretion Team
After 3 years away from the research camp, the team loved being back in the field re-connecting with old friends and colleagues from Kalumburu, sharing stories, and looking at rock art!
This year the team welcomed Prof Elizabeth Dinsdale from Flinders University as an investigator. The focus of this new RAA-supported project is to understand the formation processes associated with the layered, glaze-like mineral accretions, often found to be engraved with symbolic markings. Dr Helen Green collected samples associated with the engravings for dating analyses whilst Liz Dinsdale's expertise will help the team understand if there is a link between the growth of these individual layers and microbial activity on the rock shelter surfaces. In turn, this may allow them to use the glazes as recorders of the environmental conditions experienced by Australia's first artists. 41 samples were collected from 10 sites across the region and analyses are already underway.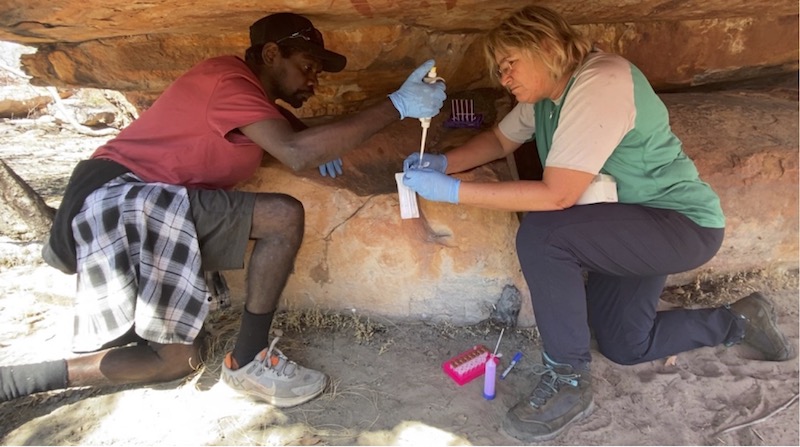 TO Uriah Waina and Prof Elizabeth Dinsdale swabbing the rock shelter surfaces for metagenomic analyses. Photo credit: Helen Green and Balanggarra Aboriginal Corporation.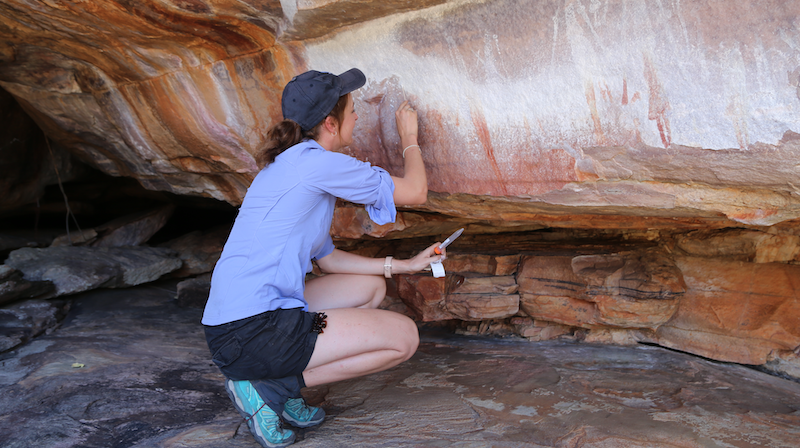 Dr Helen Green collecting samples. Photo credit: Balanggarra Aboriginal Corporation.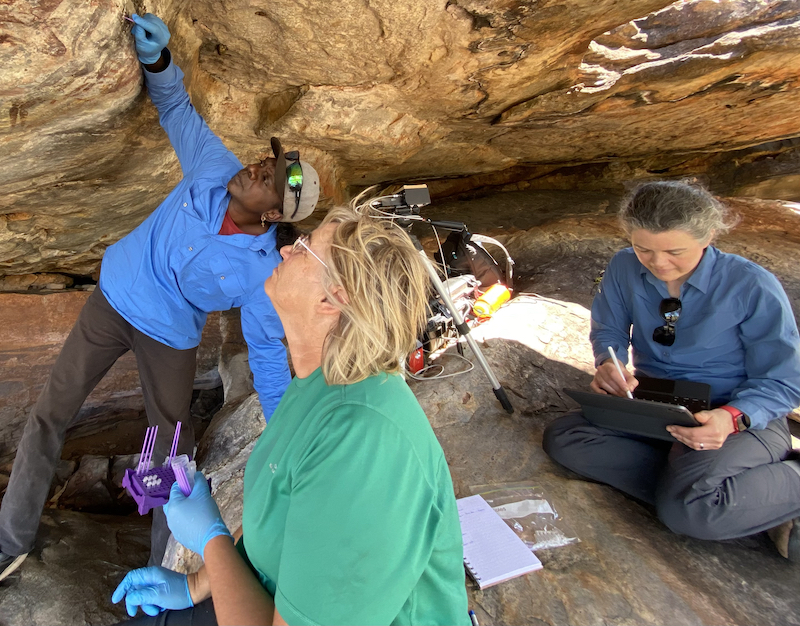 Prof Rachel Popelka-Filcoff, the RAA Minderoo Chair in Archaeological Science, together with Ian Waina, developed novel applications of field-portable visible light spectroscopy of rock art in several locations and from multiple time periods and styles in the Drysdale River region. This research explores non-destructive colour measurement of rock art pigments with potential applications in pigment identification, understanding changing pigment use through time and rock art preservation.
PHOTO
TO Ian Waina, Profs Elizabeth Dinsdale and Rachel Popelka-Filcoff swabbing rock shelter surfaces. Photo credit: Helen Green and Balanggarra Aboriginal Corporation.
Piloting Virtual-Augmented Reality
The new 'VAR' medium has hardly been used in the archaeological and cultural heritage spheres, and never in the Kimberley. Its potential for Indigenous storytelling, education, and conservation will be significant. The group, comprising Louise Shewan, John Pollard, David Barnes, Helen Green, Rachel Popelka-Filcoff and Ian Waina worked through the 10-day field trip to collect over 500 gigabytes of photographs, drone imagery, and audio data.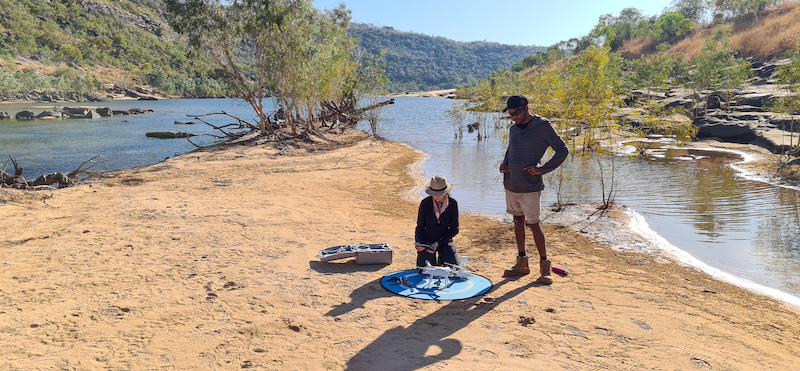 TO Scotty Unghango with Dr Louise Shewan on the Drysdale River. Photo credit: David Barnes and Balanggarra Aboriginal Corporation.
Isaac Barney safely landing the drone with Dr Louise Shewan. Photo credit: David Barnes and Balanggarra Aboriginal Corporation.
RESEARCH - AWUNBARNA 2022 FIELDWORK
Art at a crossroad: Aboriginal response to contact in northern Australia
Prof 
Joakim Goldhahn
, RAA Ian Potter Kimberley Chair at UWA, visited the Awunbarna area in west Arnhem Land with colleagues Assoc Prof Sally May (Adelaide University), Distinguished Prof Paul Tacon (Griffith University), Assoc Prof Liam Brady (Flinders University), Dr Luke Taylor and PhD student Alex Ressel (both from Griffith University) to document rock art. The team found two large thylacine (Tasmanian tigers) and anthropomorphic human beings made in the 
Maliwawa
 rock art style.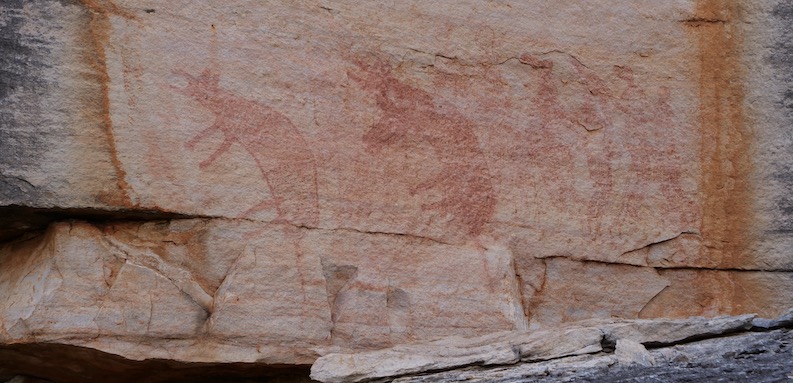 The project
aims to investigate historical Aboriginal responses to 'contact' with newcomers to their land and includes studying rock art and bark paintings created during the last 400 years in western Arnhem Land. Drawing on multiple forms of media, the project will examine how Aboriginal people used graphic systems to navigate threats and opportunities in colonial times. Local Aboriginal knowledge holders are involved in the research process to create a more comprehensive and inclusive written history for west Arnhem Land.
In May, the team travelled to Melbourne with Indigenous mentors, co-researchers and artists Maath Maralngurra, Joey Nganjmirra, Shaun Namarnyilk and Kenneth Mangiru to study some of the bark paintings Baldwin Spencer collected in 1912 at Oenpelli held at the Melbourne Museum. They were thrilled to see the 2.9 metre bark painting depicting a salt water crocodile that Kenneth's great grandfather, Majumbu, painted for Baldwin Spencer in 1912.

Our mentors and co-researchers in Melbourne: Kenneth Mangiru, Joey Nganjmirra, Shaun Namarnyilk and Maath Maralngurra.

Bark painting of a salt water crocodile painted by Kenneth's grandfather - Majumbo.
Women In Science Emerging Researcher (WISER) Award
Congratulations to Dr Helen Green for her Women in Science Emerging Researcher award.
Conferred annually by Melbourne University's Faculty of Science, the award provides funding to support a female researcher who has excelled in her chosen research field and is a leader of the future.
Helen's 'Connections on Country' application focussed on building research relationships with new groups in the Kimberley to enable indigenous co-design of future research directions.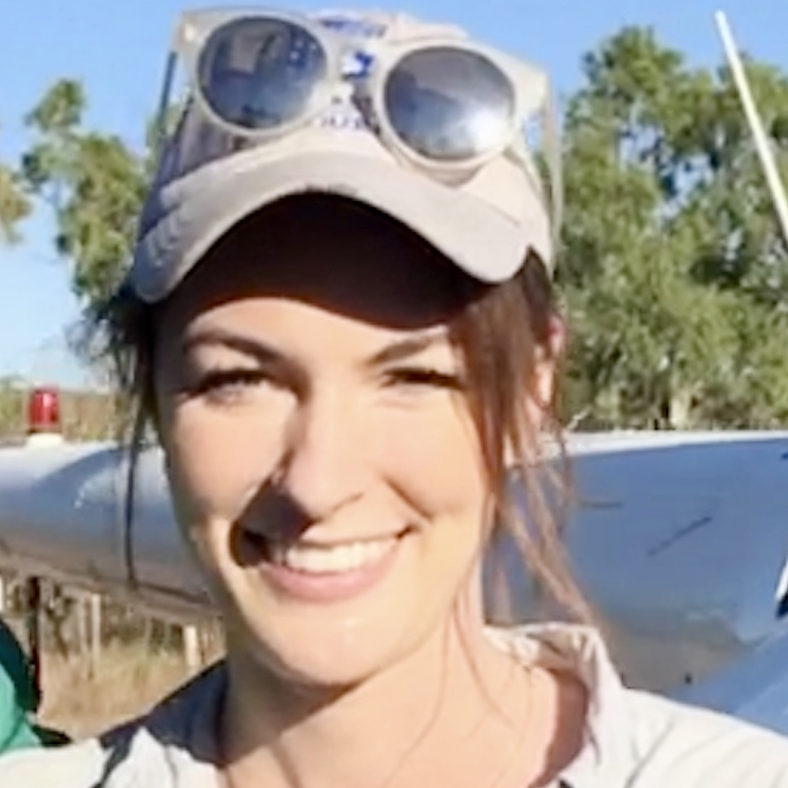 Lecture - Dating Australia's oldest know rock art paintings
At the end of August the Art Gallery Society of NSW co-hosted with RAA a fascinating lecture by Dr Damien Finch on dating Australia's oldest known rock paintings. A film featuring Indigenous researcher and Traditional Owner Ian Waina was played and AGNSW Society members and RAA supporters were enthralled at the way certain mud wasp nests can reveal the age of the art. RAA is grateful to the Art Gallery NSW Society for its continuing partnership.
SAVE THE DATE FOR RAA'S PERTH PUBLC LECTURE Tuesday 15 November at UWA presented by Dr Sven Ouzman
LISTEN TO LECTURE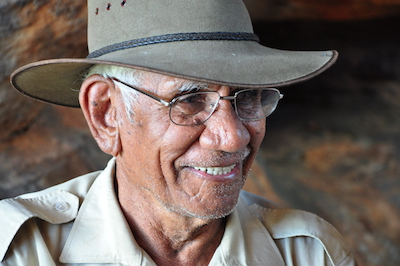 HONOURING RETIRING RAA DIRECTOR SAM LOVELL AM
Legendary 'father' of Indigenous tourism in WA, musician, and mentor to many, Rock Art Australia Director Sam Lovell AM has retired from the RAA board after 13 years of service.
Sam is a Nikina/Walmadjari man and our dear friend. RAA directors are grateful to Sam for his knowledge, leadership, advice and friendship over many years. His humour and wisdom will be greatly missed.

Fellow RAA director, Susan Bradley hosted a dinner in Sam's honour in August in Broome. Our heartfelt thanks to Sam and Rosita. Scroll down for photos of the dinner in Sam's honour.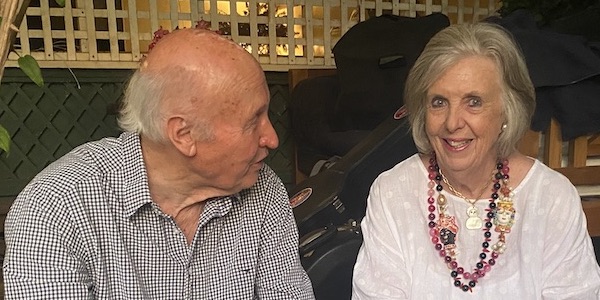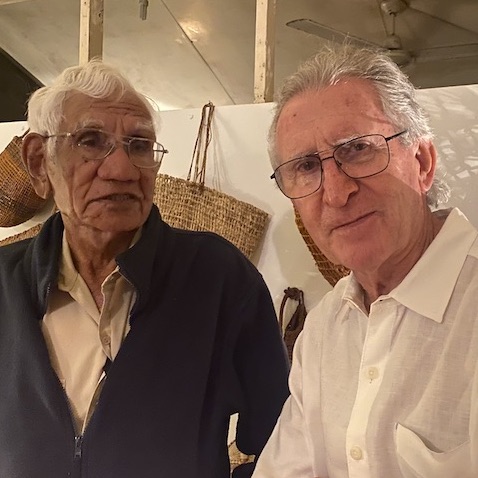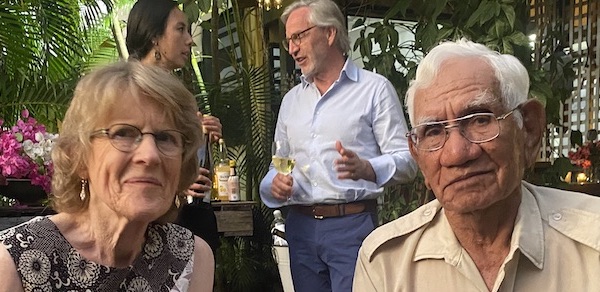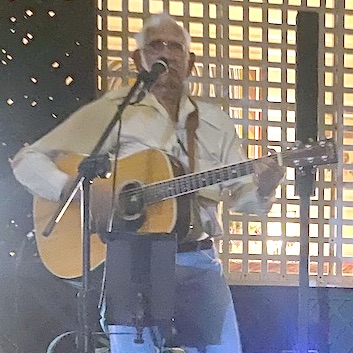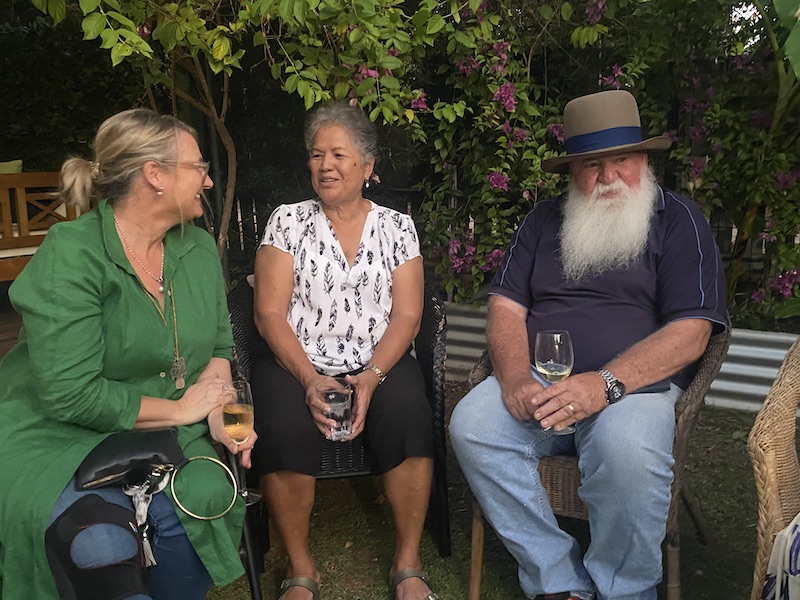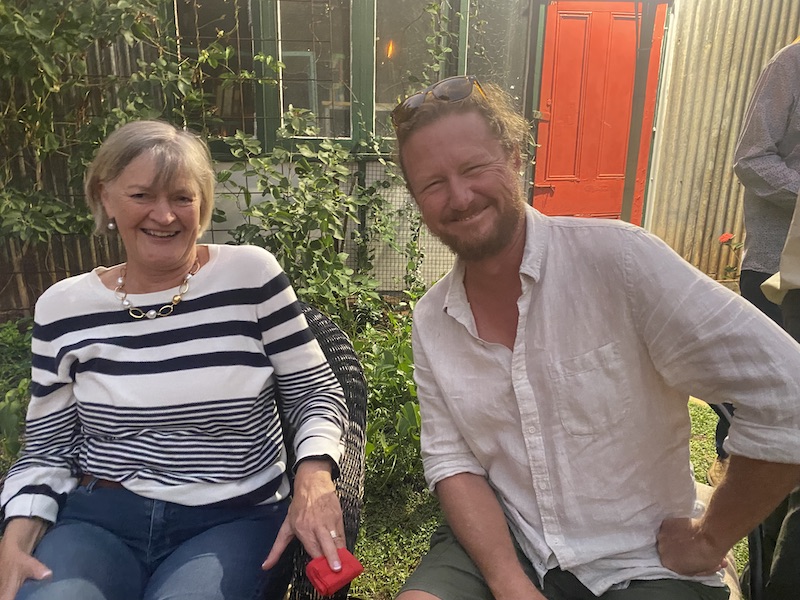 Cissy Gore-Birch joins the RAA team as Indigenous Kimberley Representative
Balanggarra Aboriginal Corporation Chair and RAA director, Cissy Gore-Birch has joined the Rock Art Australia team as Indigenous Kimberley Representative to assist RAA in building relationships in the Kimberley.
Long cognizant of the need to be on the ground to connect with Traditional Owners, rangers and healthy country programs and projects, RAA is delighted Cissy in her capacity as Kimberely Cultural Connections consultant can take on this role after a disruptive 2-year Covid hiatus. 
Cissy is a Jaru/Kija woman with connections to Balanggarra country. She grew up on Balanggarra country in the east Kimberley region. Cissy holds a Graduate Diploma in Natural Resource Management and has worked in the Aboriginal land management and community development sectors for the past 25 years.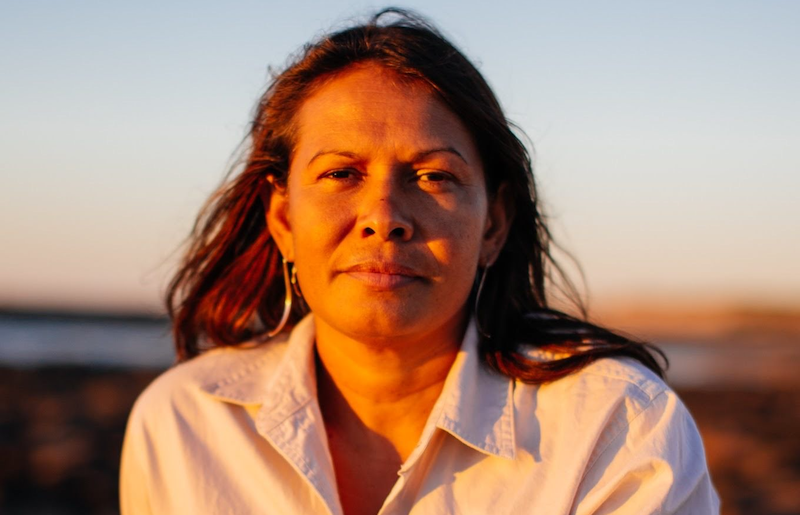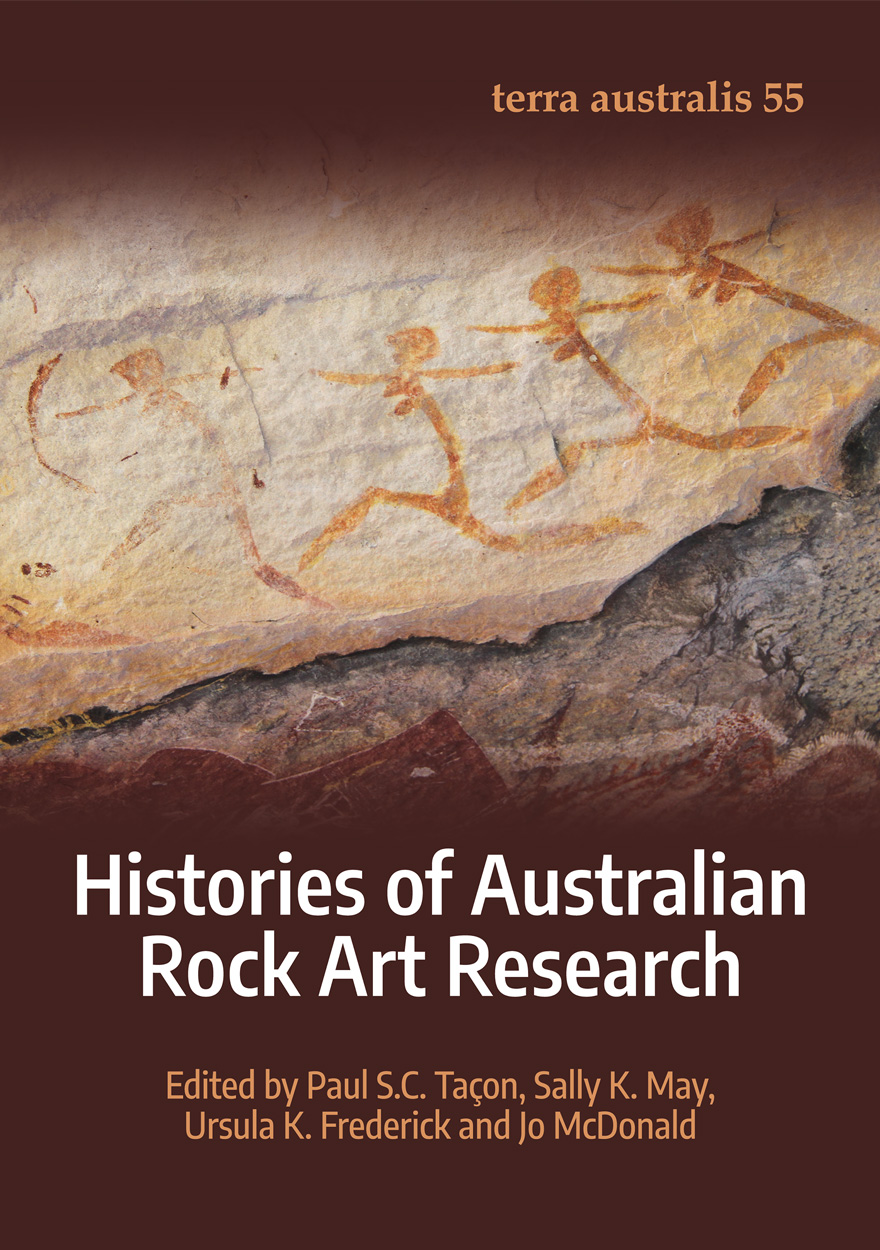 HISTORIES OF AUSTRALIAN ROCK ART
A significant new publication Histories of Australian Rock Art Research is now available online (free!) and for purchase from ANU Press.
Congratulations to Distinguished Professor Paul Taçon (Griffith University), Associate Professor Sally K. May (Adelaide University), Professor Jo McDonald (University of Western Australia) and Dr Ursula Fredricks (Australian National University), and everyone involved. Read more