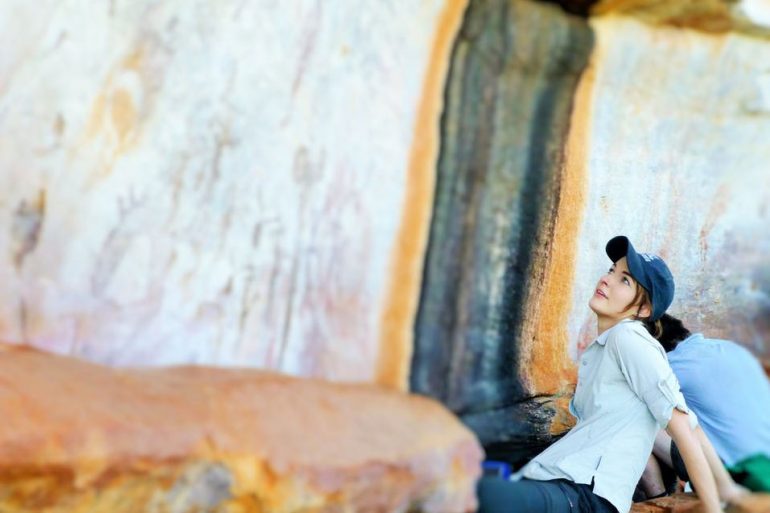 Image: Helen Green, Post-Doctoral Researcher from the University of Melbourne
As a final post I would like to thank everybody who was involved in the 2015 RAA Dating Project camp in the Drysdale River National Park. I was utterly blown away by the spectacular setting and the rock art and by the wonderful people I met and worked with over the three weeks. I feel hugely grateful for the opportunity to be involved in such fascinating and important work.
Thanks to the rock art dating team: Sven Ouzman, Jordy Grinpukel, Damien Finch, Andy Gleadow and Janet Hergt for being such a wonderful hard working team and for providing support and advice throughout the trip. I couldn't hope for a more encouraging and inspirational boss than Andy G; to the ANSTO-Wollongong 'Cosmonauts' for their fabulous company and teamwork in the field; to the camp support team: Paul Hartley, Cecilia Myers, Robin Maher, John and Tracy Gibb and Nick Sundblom − we couldn't have managed without your fantastic organisation, guidance, advice and wonderful meals!
Thanks to the Traditional Owners of this area within the Balanggarra Lands: Scottie, Mark and Augie Unghango, Ernie 'Chubby' Boona and Adrian and Ethan Karadada. Thank you for your support, guidance and patience in the field and for your wonderful company back at camp. We are really excited to share our results with you. I'll always remember to eat my food before it talks about me ;-).
To Mark Jones and Mark & Sue Harrison for your wonderful company and for providing fascinating camp fire stories and help with sampling. To Joc Schmeichen for advice in the field and a lovely send-off by the river on our last night.
Thank you to the Kimberley Foundation Australia: For your fantastic support of the Rock Art Dating Project and particularly your help in the huge task of organising such a large camp. We loved that some of you were able to visit us in the field and really appreciated the time you took to do this. Thank you to Susan for thinking of everything from bush showers to emergency chocolate cake and for a wonderful send-off meal at Doongan Station on our last evening. And to Jindi for providing us all with some happy news of her recovery when we got back to civilisation 😉