Working out the (Hi)story of Sites and Landscapes – Indigenous knowledge, archaeology, geomorphology & 3D modelling working together, Melbourne Lecture.
June 1 @ 6:00 pm

-

7:00 pm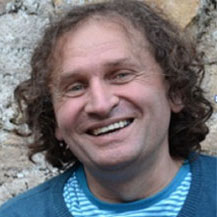 Rock Art Australia, in partnership with Monash University, invite you to join us for a public lecture presented by Prof. Bruno David & Elder Russell Mullett about community-driven research combining science with Aboriginal knowledge.
DATE/TIME: Wednesday 1 June 2022, 6pm for a 6.15pm lecture
VENUE: Monash College, 750 Collins Street, (Docklands), MELBOURNE
Refreshments will be served after the lecture courtesy of Monash University
REGISTRATIONS CLOSE TUESDAY 24 MAY 2022

Registration essential:
Please click here to register
This is a free event however advance bookings are recommended.
BOOK NOW
Bruno is renowned internationally for his trans-disciplinary research that combines archaeology, geomorphology and other sources of information to reveal the (hi)story of sites and landscapes going deeply back in time. In this lecture, he will show how archaeology and geomorphology have been combined with 3D modelling to reveal rock art sites as shaped architectural monuments both in Australia and overseas.
Together, Bruno and GunaiKurnai Elder Russell Mullett will reveal details of two special caves in East Gippsland, Victoria. Without the local GunaiKurnai knowledge, the special meanings of those caves remain unknown. Combining the archaeology, geomorphology and 3D modelling with the Aboriginal knowledge not only brings to light more profound details of the sites' (hi)story than would otherwise be available, but also brings to light exciting new, community-driven research possibilities for the future.
Excavation in progress at the junction of the Snowy and Buchan Rivers near Buchan, GunaiKurnai Country, Victoria. From left to right: Elder Russell Mullett and Professor Bruno David.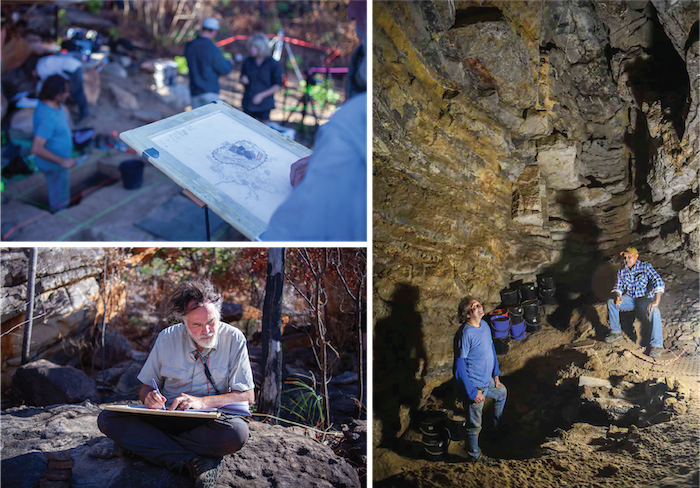 Left: Bruno excavates while Professor Jean-Jacques Delannoy maps the geomorphology of sites in the Kimberley. Right: Bruno and Russell inside Cloggs Cave (artificial light), GunaiKurnai Country.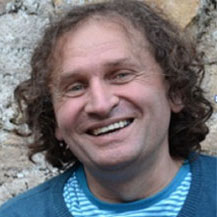 Bruno David is professor in archaeology Monash Indigenous Studies Centre and a Chief Investigator with the ARC Centre of Excellence for Australian Biodiversity and Heritage. He is a member of Rock Art Australia's Science Advisory Council and has been working on RAA-funded research in the Kimberley.  Bruno works closely in partnership with Aboriginal communities who request research that is of interest to the Traditional Owners. His specialties are rock art, landscape archaeology and trans-disciplinary research, working together in teams across traditional disciplinary boundaries. He has published 17 books including Cave Art(2017, Thames & Hudson), The Oxford Handbook of the Archaeology and Anthropology of Rock Art (2018), and The Oxford Handbook of the Archaeology of Indigenous Australia and New Guinea (2022).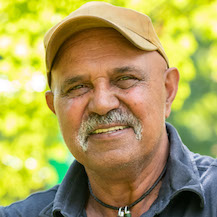 GunaiKurnai Elder Russell Mullett (Registered Aboriginal Party Manager, GunaiKurnai Land and Waters Aboriginal Corporation, Gippsland, Victoria) has worked and researched in cultural heritage for over 30 years. He is currently appointed on the Victorian Aboriginal Heritage Council.
IN PARTNERSHIP WITH