Dr Helen Green has been selected as one of the outstanding early career researchers to receive a Victorian 2022 Young Tall Poppy Science Award.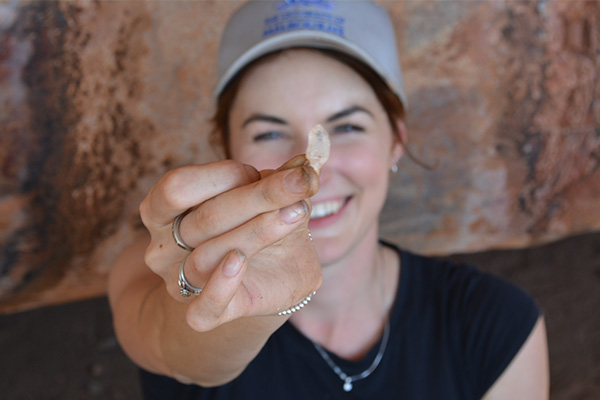 The Tall Poppy Campaign was created in 1998 by the Australian Institute of Policy and Science (AIPS) to recognise and celebrate Australian intellectual and scientific excellence.
Dr Green, from the School of Geography, Earth and Atmospheric Sciences, is a Research Fellow in Rock Art Dating funded by Rock Art Australia and the Ian Potter Foundation.
Her research over the last five years has focused on using geochemical techniques to characterise and understand the formation processes associated with mineral growths found in relation to rock art pigments in northwest Australia's Kimberley region.
Dr Green has held several leadership roles such as the Science Early Career Advisory Network (SECAN) Chair – (2019-2021). Helen was also a recipient of the Faculty of Science 2022 Women in Science Emerging Researcher Award.  Helen has become one of the most effective communicators for Rock Art Australia's annual fund-raising activities, which has now raised millions of dollars in donations for research.
Dr Green will be presented with the award later this month at the 2022 Tall Poppy Awards Ceremony.
https://sgeas.unimelb.edu.au/news/dr-helen-green-receives-victorian-2022-young-tall-poppy-science-award
Celebrating outstanding women in science
Dr Helen Green has received 2022 Women in Science Emerging Researcher (WISER) Award to help further her research career.
Dr Helen Green from the School of Geography, Earth and Atmospheric Sciences received the 2022 Natural and Health Science Award to advance her critical work in dating and protecting Kimberley rock art.
"The Award will facilitate crucial relationship building with Indigenous communities and corporations in the Kimberley, allowing consultation and co-design of any resulting research programs and identification of opportunities for both the University researchers and the community members involved. Plans are already in place for an initial face-to-face meeting in the Kimberley with local groups in November 2022," Dr Green said.
https://science.unimelb.edu.au/about/news/celebrating-outstanding-women-in-science