Landscape and Time – The Rock Art Dating Project Keynote: Prof Andy Gleadow AO FAA Charles Darwin University Casuarina Campus
21 June 2022 @ 5:00 pm

-

7:00 pm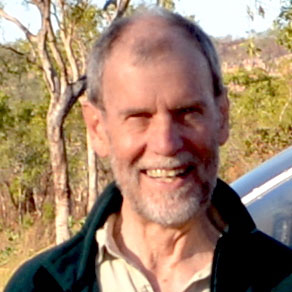 Rock Art Australia, in partnership with Charles Darwin University and the Museum and Art Gallery of the Northern Territory, invite you to join us for a fascinating public lecture tracing the research journey of the nation's most significant rock art dating project.
Prof Andy Gleadow, an Emeritus Professor of Earth Sciences at the University of Melbourne and leader of the Kimberley Rock Art Dating Project, is the keynote speaker. The project is taking a multi-disciplinary approach with a combination of dating technologies and, for the first time, large data sets to change our understanding of Australian Aboriginal rock art and its relationship to an evolving landscape.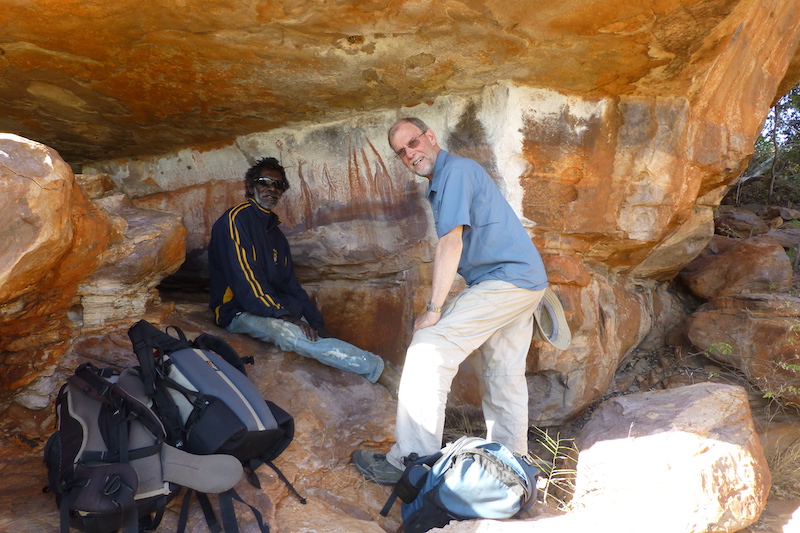 Prof Andy Gleadow and Traditional Owner Augie Unghango, Rock Art Dating project, Drysdale River, WA.
The Dating Project, funded by not-for-profit foundation Rock Art Australia and the Australian Research Council, involves a large team of researchers with complementary specialties from multiple institutions. The project is undertaken in partnership with Balanggarra Aboriginal Corporation. Together with the Traditional Owners, the scientists are establishing a chronology for the extraordinary rock art sequence of the Kimberley.
"The project is uniquely focused on developing a deep time framework in which to better understand the art and the people who have lived in this vast region from the Pleistocene to the present day," said Prof Gleadow.
"We need to know just how old the rock art is in order to explore how the rock art relates to changes in the environment over millennia such as those caused by the Last Glacial Maximum approximately 20,000 years ago. Knowing the age of the rock art also helps us fill out the picture of the peopling of Australia."
The Kimberley rock art sequence is characterised by tremendous artistic skill, great abundance and a diversity of painting styles. Frequently a particular painting style is superimposed over earlier paintings which enables them to be placed in a relative sequence, but it was not known how much of the more than 60,000 year period since arrival of the first Australians this sequence represented.
Establishing chronologies for the rock art is extremely challenging, because most pigments cannot themselves be dated with well-known and accepted methods, but the Dating Project is now making important advances with a combination of four different dating methods to understand both the rock art itself and the landscape within which it occurs.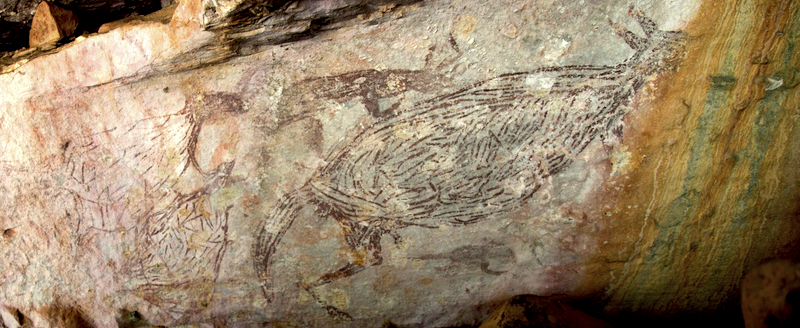 Painting of a kangaroo that we now know is more than 12,700 years old, based on the age of overlying mud wasp nests.  Drysdale River National Park, WA. Photo by Peter Veth / Balanggarra Aboriginal Corporation.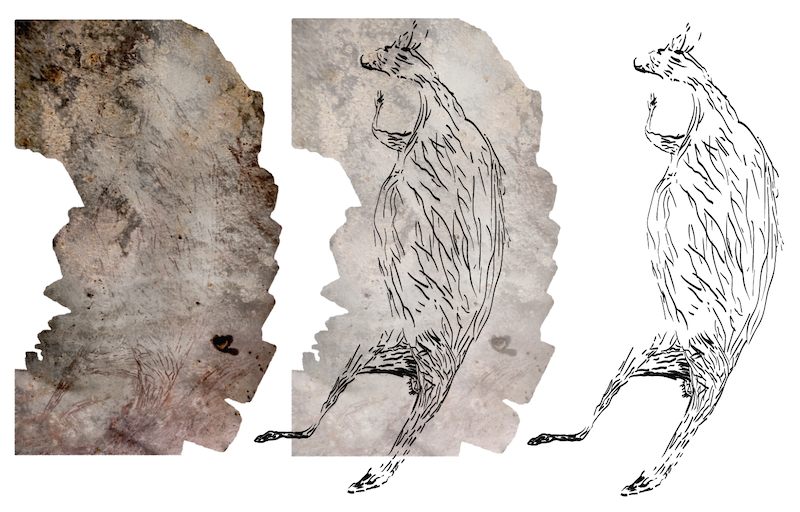 A 17,300 year old painting of a two-metre long kangaroo found on the ceiling of a Kimberley rock shelter. Damien Finch. Illustration by Pauline Heaney
Booking Essential. Register Now
Please be advised that the Rock Art Australia Public Lecture will be held in The Mal Nairn Auditorium at Charles Darwin University's Casuarina Campus, Ellengowan Drive, Brinkin.
Refreshments will be served in Boab Court, adjacent the auditorium from 5pm, with the lecture commencing at 5.45pm.
Free parking is available across the campus – Click here to view the campus map.
Limited tickets available book now: www.cdu.edu.au/rock-art-lecture